Plan your visit
We pray you discover HOPE CHANGES EVERYTHING when you join us for worship. No matter your journey, we would love for you to join us soon! At GFCC there is a place for you! 
Service Times
Sunday's at 8:30 am & 10:45 am
Address
1100 Killarney Drive  Greenville, IL 62246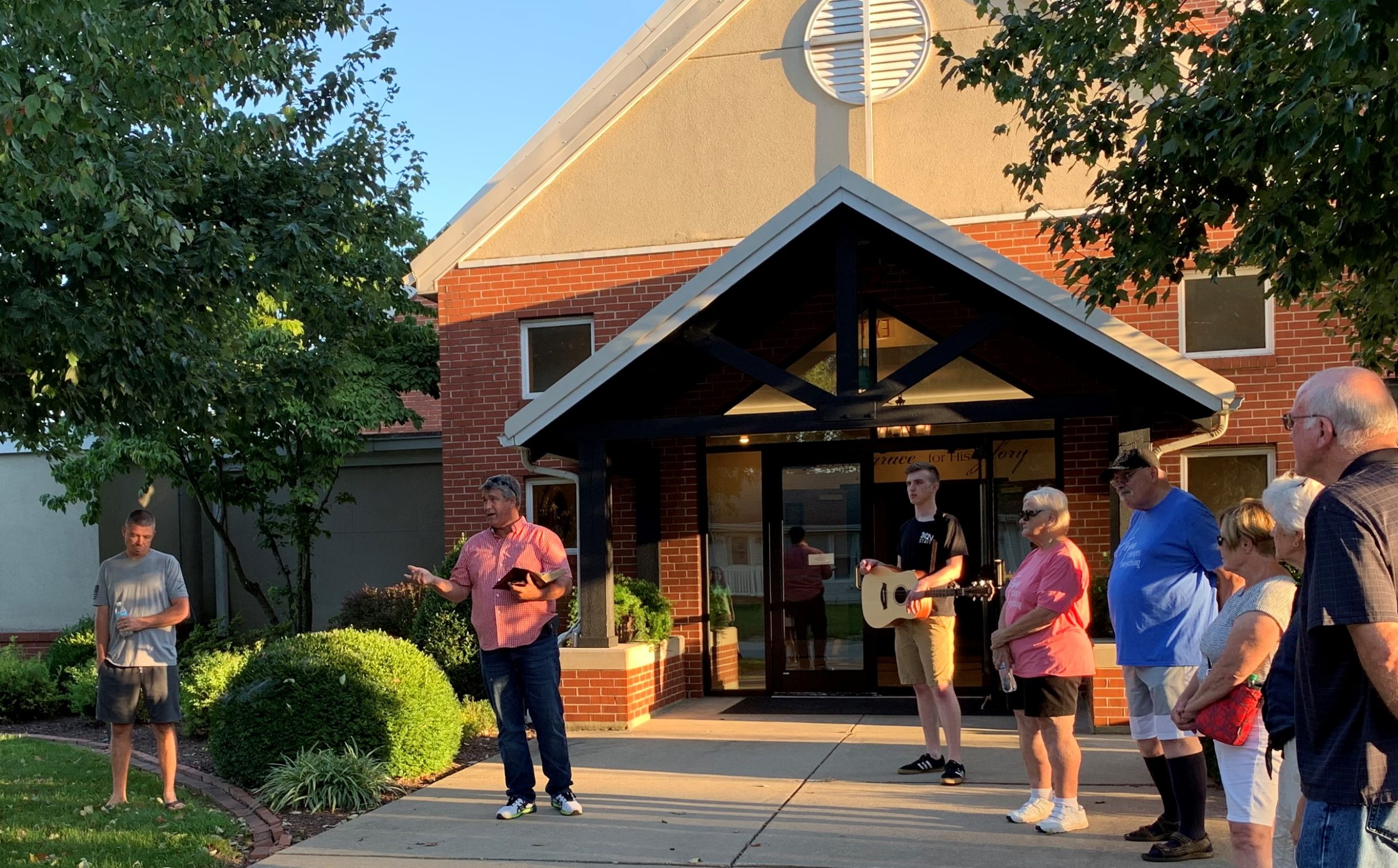 Where to park
Parking is located on all sides of the building. The South Family Life Center entrance and North entrance of our building are the most popular places to park.
Where to enter the building
You can enter one of three north facing front doors off of Killarney Drive or the South Family Life Center entrance. All other doors are locked to outside guests for safety protocols. 
First timers
Once you enter the building, you'll be greeted by a volunteer at any of our entrances. Feel free to ask them any questions you may have or let them know if you need assistance.
Service
Our services typically last an hour. Our service includes celebratory worship at both service hours. The 8:30 a.m. service is Traditional with the 10:45 service being a Contemporary with a full band.  There is always Biblical teaching, prayer, an opportunity to make a decision for Christ and all believers are welcome to share in Communion weekly.
Kids
Where do my kids go? Currently we have Sunday School at 9:45 for nursery to 5th grade.  Junior High and High School students have an opportunity to attend Sunday School class at 9:45 in our newly renovated youth room, room 302. At our 10:45 service we have Nursery and Children's programming for birth through 5th grade.
Why do I have to "check in" my kids? We care about the safety of the children in our programs. Check your children, ages birth to 5th grade, in on Sunday morning at the Check in window near the East entrance.
Can my kids just stay with me? Absolutely, some families keep their children with them during worship services. If for some reason you need to leave the service, we have an overflow room with a live feed of the service in room 218 available at the 8:30 and 10:45 a.m. services.
At GFCC, we believe that hope changes everything! We want you to know our hope is found in Jesus Christ. While our world is often full of stress and division, we know God's truth and the Good News of Jesus brings unity and peace to the darkest and most divided places and hearts. No matter what stage of life you are in or what your current relationship is with God, we invite you to visit! 
Join us for worship this week. We look forward to getting to know you.  
What should I wear?
We encourage you to wear what you feel most comfortable in. Because we have so many different ages attend our church we have a variety of people who wear business casual clothing as well as jeans and shorts (depending on the season).
Who should I talk to?
We have greeters at the entrances and ushers at each entrance to the worship space. The is a gift at the Welcome Center for you! At the end of the service many of our staff members are in the halls available to greet you as well. 
Will I have to identify myself or be called out?
No need to identify yourself. If you would like prayer or feel compelled to join the church family, there is an invitation time at each service. The best way to identify yourself is filling out the connection card so we can follow-up with you by phone or email at your convenience. 
Am I expected to give money?
Generosity is one of our values, but only for those who call FCC their church home and partner with us in ministry. Worship with the body of Christ at FCC is our gift to share with you. If you want to be generous, you can use "generosity" boxes located in the worship space or give online. 
What about communion?
Communion is available at every worship service we offer. We invite any believers to share in the Lord's Supper. At this time we use pre-packaged communion. It is available from our ushers as you enter the worship center.